Whether you have a velvet couch or chair, or you're trying to clean up your home, it's important to understand how to clean velvet furniture. There are several steps to take, including dry cleaning, steam cleaning, and preventing wear and tear.
Cleaning with a soft brush
Getting your velvet upholstery cleaned doesn't have to be a chore. In fact, it can be fairly simple. There are few special tools you need and the process isn't as strenuous as many people think.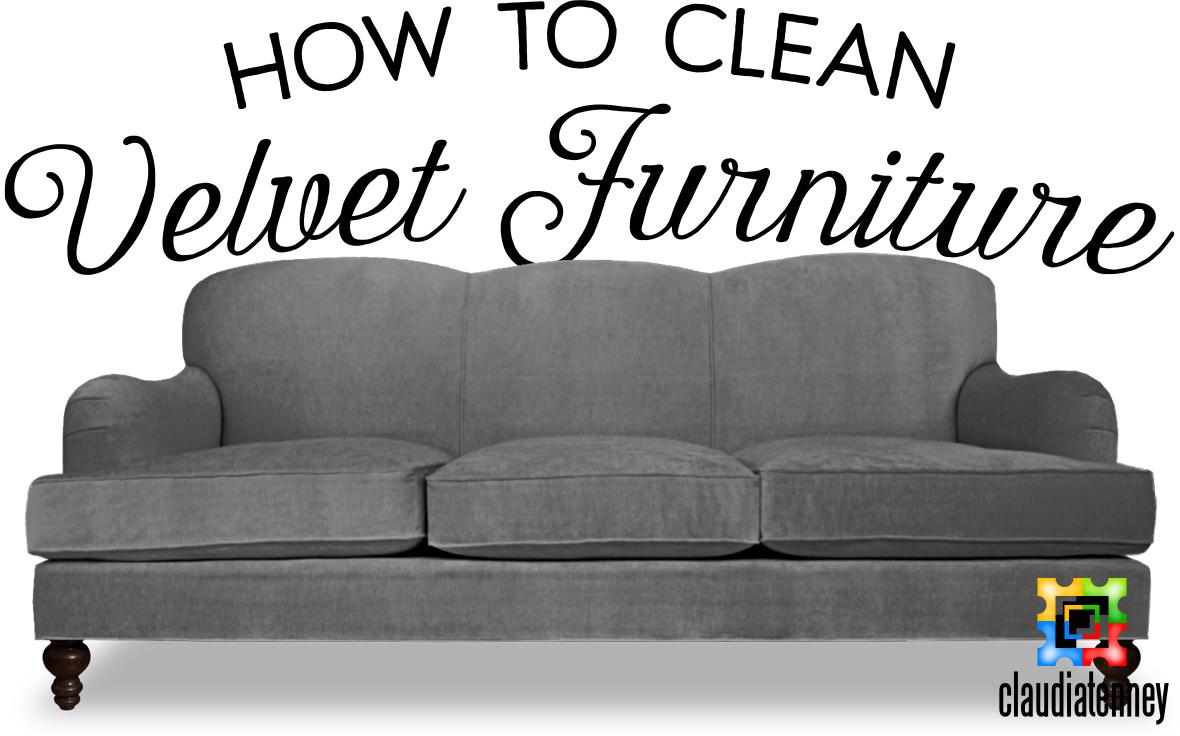 When you first notice a stain on your velvet furniture, immediately remove it with a lint-free cloth. Blot the stain gently with the cloth. You may also want to try using a hair dryer on the lowest setting. This will speed the drying process.
For larger areas of velvet, you can use a warm, bubbly dish soap solution. For smaller areas, you can use a dry white rag to scrub the soap away.
If you are cleaning velvet upholstery on your own, try using a soft brush. This can loosen dust and debris and refresh the nap. It can also help to restore the texture of the pile.
Steam cleaning
Keeping your velvet sofa clean is an easy and effective way to keep it looking fresh and new. Velvet can easily become stained, or lose its luster, when it gets wet. To prevent this, always blot up any spills immediately.
Vacuuming your velvet sofa regularly is a good way to remove dust and other debris. You can also use a lint roller to remove pet hair and other debris from the fabric.
For a more comprehensive cleaning, you can use a steam cleaner. This will remove dirt, dust and other debris from the fabric, and also makes it easier to wipe away. For a more thorough cleaning, you can use a special upholstery attachment to remove dirt and fuzz from the surface of the fabric.
One of the best parts about cleaning your velvet sofa is that it's a low-maintenance piece of furniture that can last for years if you take care of it. To keep your sofa looking good, you should clean it every couple of months.
Dry cleaning
Using the right care instructions is important when dry cleaning velvet. This will protect your velvet's delicate pile from being crushed. It also prevents your velvet from being damaged by the water.
The first step to cleaning velvet is to make sure that you remove all dirt and debris from the fabric. This can be accomplished by using a vacuum cleaner or a brush.
Once the fabric is free of dirt and debris, it's time to turn it inside out. Use a clean, soft brush with soft bristles to gently brush the back of the fabric. This will remove the fibers that are causing the shedding.
When you're done, hang the velvet on a hanger and let it dry. This will help prevent the fabric from wrinkling.
Avoiding direct sunlight
Getting your velvet furniture cleaned is a top priority, but you also want to ensure that it's well protected. This includes a good covering for the couch itself, as well as window coverings to protect the underlying fabric.
The best way to do this is to make use of a professional. There are a variety of heavy duty cleaning products on the market, designed to clean a wide range of velvet types. Using a steam cleaner is a great way to get rid of creases and germs. You can also use a blow dryer to speed up the drying process.
For instance, a steam cleaner can make a tatty sofa look new. You may also want to consider protecting the underlying fabric by placing a throw pillow over it.
Preventing wear and tear
Taking care of your velvet furniture can prevent wear and tear. Regular vacuuming will remove dust and debris and keep the fibers standing up. Keeping your furniture out of the sun helps keep the fibers from fading. You can protect your furniture from UV rays with window coverings.
If your velvet furniture has been stained, you will need to treat the stain right away. If the stain has not yet dried, you can remove it with a dampened lint free cloth. You can also use a solution of soap and water. You can even use a professional cleaning solution.
The best way to clean velvet is to use a soft bristle brush. This will help lift the fibers from the pile and bring them back to their original shape.